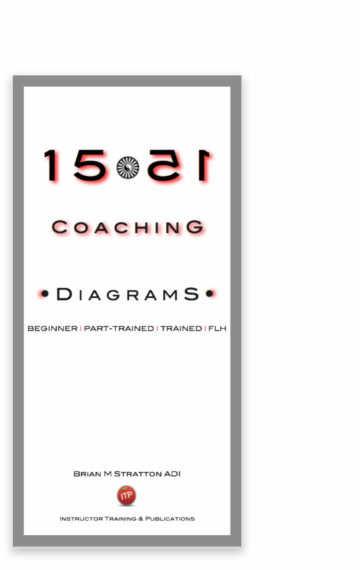 £70 inc First Class UK P&P
Publisher:

ITP

Editor:

Brian M Stratton ADI DVSA ORDIT TRAINER

Edition:

First

Available in:

Spiral Bound with Card Covers and Frosted Polyprop Cover
Add to Basket
FULL colour diagrams for all topics from controls to Motorway and everything in-between, including eco-safe driving. Ideal for PDIs and ADIs for presenting information in a clear and easily-understood manner. Also includes the new manoeuvres for the driving test.
A4 height/2/3 width | 144 Diagrams | Spiral Bound with Card Covers and Frosted Polyprop Cover | £70 inc first class UK P&P
This book was designed by Brian M Stratton to be easily held in the hand and ideal to fit in the door pocket of the car. It's relatively slim size makes it less intimidating to pupils, compared with bulky A4 or Lever Arch files.
Pupils like this book so much that many have requested to buy the book for their home study. This is extremely rare these days that pupils buy reference books of their own accord!
Colour diagrams with accompanying text
Easy to use logical format
Spiral binding allows the book to be folded flat, or as an 'A Frame' to stand on the dashboard
Once you've bought the book you'll be eligible for a £100 discount off a day's training with Brian M Stratton.
Diagrams include, amongst others:
The book is supplied individually numbered – which becomes your PIN – and this links you to discounts for other publications and updates on new titles. Also if you're in a group environment with others who have the same book it will enable you to be identified as the rightful owner.
The book is sealed in a clear plastic wrapping and securely despatched in a padded envelope.
T&Cs: All books are sold on a 'firm sale' only basis, not 'see-safe' or sale or return. 
Reviews
…I've enjoyed acquainting myself with this new 1551 Diagram Book… they're excellent and succinct and readily identifiable and relevant I'm so pleased to have them…
Sarah, ADI
…With the new test I thought I'd better get prepared… this book covers the new L Test reversing and much more! Good to see that motorway diagrams are also in there… looking forward to teaching that to my learners… Thanks for a great book and a very speedy service…
Jason, ADI
…Just what I wanted… Pupils really like the pictures for the new exercises and once they'd seen them they really got the hang of them straight away…
Sue, ADI
…I really like this new book… the diagrams for the new manoeuvres are superb – easy to understand and explain everything clearly… I had the old book and will keep that as a back up or hand it to my pupils…
Richard, ADI
…Over the years I've tried many diagram books and presenters… your Diagram book is by far the best… I've even had pupils who wanted to buy the book to study in their own time – that's never ever happened before!
Tony, ADI
… I like that the book is small but filled with plenty of information… I also like the  layout as it easy to understand and the fact that I can put it on my dashboard and explain it to my pupils…
Yasmin, ADI