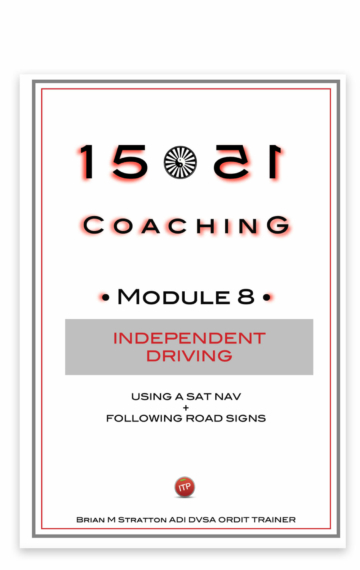 £30 inc First Class UK P&P
Publisher:

ITP

Editor:

Brian M Stratton ADI DVSA ORDIT TRAINER

Edition:

First

Available in:

Paperback | Perfect Bound
Add to Basket
Module 8 | Independent Driving: Using Sat Nav + Following Road Signs
WHY 1551 Coaching? The reason is that 15 is the maximum you can score on Risk Management and 51 is the maximum possible overall score, so 1551 is the ultimate goal  for all instructors.
A4 | 38 Pages | Perfect Bound | £30 inc first class UK P&P
With the advent of coaching as the most effective teaching method, Brian designed a set of ten modules to give instructors a clear blueprint or structure on how to coach driving skill sets.
Following discussion with instructors, one of the key requirements was a way of starting or finishing lessons – something most instructors find challenging – and therefore example dialogue is supplied in each Module for each topic.
Suitability of topic for a Part 3 or Standards Check
Instructor's perception of the topic
Once you've bought the book you'll be eligible for a £100 discount off a day's training with Brian M Stratton.
Chapters include, amongst others:
Topic ANDs – Aspects Needing Development
The book is supplied individually numbered – which becomes your PIN – and this links you to discounts for other publications and updates on new titles. Also if you're in a group environment with others who have the same book it will enable you to be identified as the rightful owner.
The book is sealed in a clear plastic wrapping and securely despatched in a padded envelope.
T&Cs: All books are sold on a 'firm sale' only basis, not 'see-safe' or sale or return. 
Reviews
…This is precision engineered coaching at its very best and yet another example of your very professional approach to everything you do… your unerring eye for detail is laser-like in just cutting through any verbiage… I also like the way you can express things in a concise phrase which would take me ages to explain… definitely all the rules and tools for pupil/centred coaching…
Teresa, ADI
…Good, clear information… the cover is very durable and hard-wearing… will withstand constant reading and re-reading… There's a quality feel to it… I would describe these modules as comprehensive, complete and continuous – everything just flows from start to finish… extremely well-written by an accomplished author with a superb understanding of what instructors need to know…
John, former DVSA Supervising Examiner
…Had a good read of the 1551 coaching module… Excellent read and very well put. To the point and no waffle…  it's a definite must for PDI trainees and ADIs…
Ashni, ADI
…Clarity and knowledge are the key things that I like about this book… I think the pro tips are really helpful – I've already started putting some of them into practice… definitely going in my reference library…
Kevin, ORDIT Trainer
…What I like about this book – which you wouldn't get on a tablet or phone – is the fact that as you hold the book it connects you in a way you don't get with electronic devices… it feels as if you're plugged directly into the information source and can flick back and forth as necessary… it feels more real and authentic plus the information just gets absolutely straight to the point in a way that makes so much sense…
Leon, ADI
…The modules give direction, clarity and substance for lessons, especially for those who have limited teaching experience, or those seasoned ADIs who need a re-boot… lots of helpful hints and advice that I'd never thought of…
Sue, ADI