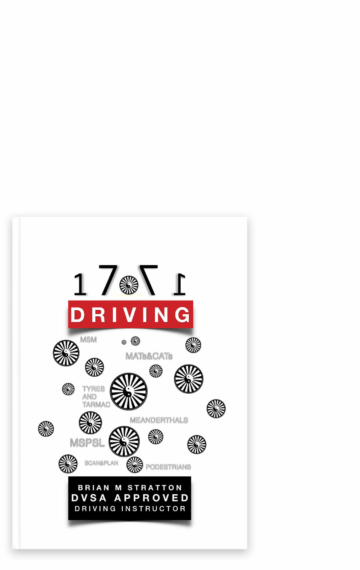 £25 inc First Class UK P&P
Publisher:

ITP

Editor:

Brian M Stratton ADI DVSA ORDIT TRAINER

Edition:

Revised

Available in:

Paperback | Perfect Bound
Add to basket
THIS book provides the detailed knowledge for your briefings and information about risks and consequences for each topic. Ideal for PDIs and ADIs preparing for the ADI Part 3 or Standards Check, plus everyday teaching.
Pupils also really like this book and many instructors are now providing 1771 books for their pupils in a welcome pack, ensuring everyone is on the same page from lesson one.

A5 | 268 Pages | Perfect Bound | £25 inc first class UK P&P
Why is it called 1771? The start of a driving career is at 17, and at 71 drivers can reflect on experience so far and look ahead to continued safe driving. The best drivers – 1771 Drivers – are those who combine safe driving techniques with experience.
The book provides the guidance necessary for all driving situations and manoeuvres. So whether you're driving in London, Lisbon, Berlin, Barcelona – or elsewhere – you'll have the skill sets to keep you safe at all times.
Learn the risks and consequences linked to each aspect of driving
Discover the 'rules and tools' which reduce risk
Understand how to carry out all of the reversing manoeuvres
Once you've bought the book you'll be eligible for a £50 discount off a day's training with Brian M Stratton.
Chapters include, amounts others:
What Licence Checks Need to be Made Before Driving?
How to Deal Safely with Roundabouts
What are the Benefits of Safe Driving?
Using 'Rules and Tools' for Safe Driving
What the Risks and Consequences are for Each Topic
How to Avoid Distracted Driving
The book is supplied individually numbered – which becomes your PIN – and this links you to discounts for other publications and updates on new titles. Also if you're in a group environment with others who have the same book it will enable you to be identified as the rightful owner.
The book is sealed in a clear plastic wrapping and securely despatched in a padded envelope.
T&Cs: All books are sold on a 'firm sale' only basis, not 'see-safe' or sale or return. 
Reviews
…Helped me massively with my preparation for my Standards Check… the risks and consequences paragraphs bring home the dangers and allowed me to focus my lesson… really well put together…
Sarah, ADI
…The book was really useful… It was easy to understand… Along with my practical lessons, this book helped me to improve my driving skills and track my progress… The real-life experiences cited in the book helped me to apply what I learnt… I highly recommend to all the newbies to go through this book while you practise with your Instructor…
Vandana, Learner
…I think the information you have provided in your books is very important… It has helped me to organise my lesson plans – and it has helped my pupils to understand what they have to do in their lessons… I am also applying information in your Standards Check book – pupils are now analysing themselves, responsibility, risks etc… and it's making them safer drivers…
Vimal, ADI
…I really like the skill sets… it's very well written… thorough and logical… I've already started focusing on which 'skills' rather than subjects with my client-centred learning lesson plans – obvious when you think about it but that alone has already been a real 'light bulb' moment for me… 😉
Laura, ADI
…I got one for my Dad as a birthday present… he didn't quite know how to take it but he was seen smiling about the things that other drivers say and do… we asked him how many of the '20 Things You Didn't Know' did he know and it turned out he only knew half of them… any driving issues we say look in the book!
Gareth, Newly Qualified Driver
…The review intrigued me and I ordered one… it has already far exceeded my expectations… I now turn up for lessons knowing what to expect, and what is expected of me… an easy read with clear, well-laid out chapters… Recommended!
Ollie, Learner