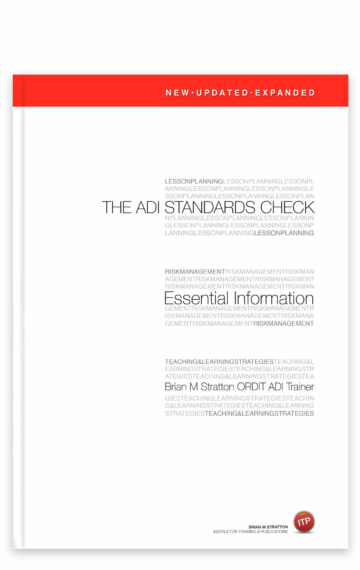 £45 inc First Class UK P&P
Publisher:

ITP

Editor:

Brian M Stratton ADI DVSA ORDIT TRAINER

Edition:

Revised, Updated and Expanded

Available in:

Paperback | Perfect Bound
Add to Basket
KEY information for the ADI Part 3 test or the Standards Check [they're the same test].
This book is ideal to help you prepare for the ADI Part 3 test or Standards Check.
A4 | 107 Pages | Perfect Bound | £45 inc first class UK P&P
The book explains how the test is structured and discusses in detail each of the 17 competencies on the marking form and what the examiner will be looking for.
Learn why the system changed to coaching
Discover what happens on the day of the test
Understand risk management
Once you've bought the book you'll be eligible for a £100 discount off a day's training with Brian M Stratton.
Chapters include:
What is the New Scoring and Grading System?
How the SC Report Form is Marked
What do Other ADIs think about the Standards Check?
Using Coaching Effectively
How to Stress Test Your Standards Check
The book is supplied individually numbered – which becomes your PIN – and this links you to discounts for other publications and updates on new titles. Also if you're in a group environment with others who have the same book it will enable you to be identified as the rightful owner.
The book is sealed in a clear plastic wrapping and securely despatched in a padded envelope.
T&Cs: All books are sold on a 'firm sale' only basis, not 'see-safe' or sale or return. 
Reviews
…Just brilliant… I never thought I'd score so highly but I just got myself 51/51!! I pretty much feel a 10 at the moment… Thank you so much… I really appreciate all your help and encouragement… Thank you so much for going the extra mile and helping me with my SC…
Lyndsay ADI
…I just wanted to thank you for the fantastic publication which helped me greatly… I recently did my Standards Check and thought I would share my good news with you – I scored 51/51! THANK YOU SO MUCH!!
Shafiq ADI
…So, yesterday I had my test and I passed with an A, I got 51 out of 51!! I was ecstatic and pretty shocked! I found the book very useful… I read it through and through… I've only been an instructor for 6 years… there were certainly a few things that I had to brush up on and also introduce to my teaching… I am convinced that I wouldn't have got that score without reading the book first… So, I would just like to say ThankYou!!!
Louise ADI
…Wow! What can I say? I thought I'd done OK but when told me it was a 51 I was gob-smacked… so pleased to have read your book and taken the training… it made all the difference and I just know that without the coaching I'd have been nowhere near this score… Thank you!!!
Sue ADI
…Just letting you know that my Standards Check was today and I got 51… Many thanks for your support over the years…
Mark ADI
…Wowee! I am overcome with joy… Thanks to you I got an A (51)… A big thank you for all your help and support… it was the structure and risk management that made the most difference… Still can't believe it… I'm now after your number plate!!
Manta ADI
The book to check your standards, before the Standards Check checks you!
Justin,  ADI
…Just wanted to let you know I made it through my final attempt at my standards check… I got a grade B (scored 36) so I was happy with that really, because I was so sure I was gonna slide off the register… All thanks to your book (ADI standards check) I can now carry on working and improve on my coaching skills and maybe get a grade A next time round. Thank you so much Brian 👍 couldn't have done it without you 🙂… I found chapters 4, 5 + 6 very helpful, but the whole book is a valuable asset to any ADI preparing for a standards check…
Roger, ADI
…This book has everything I need and clarifies a lot of grey areas… now so much more informed about Risk Management which was one of my worries… I also like the Coaching chapter which I now understand… feel a lot more confident about my approaching SC… Thank you!
Ashleigh, ADI
…Success today! I found the chapter on Risk Management very helpful… I'm putting a lot more emphasis on it in my lessons… The 17Rs were also extremely useful… Thanks again…
Gail, ADI
…Passed my standards check attaining 40 points / grade B… I read your ADI Standards Check book through many times and made some notes and went for it… The book was very informative and well worth the cost and would recommend to any other adi,I'm happy with the result since I only train occasionally and took no training for the test…the book got me through!!  thanks for the book… Chapters 4 to 9 for me were the most helpful as I had no idea what to expect in these areas…
Eddie, ADI
…After reading your books many times I put them to the test today and achieved a Grade A with a score of 46… very pleased with that and all credit goes to your books… I took 'The ADI Standards Check: Essential Information' on holiday and it was my constant companion on the plane and on the beach, much to my family's amusement… I'm still shaking the sand out of it now… The key chapters that helped me most were Risk Management and Coaching… the 1771 book was very useful as well, highlighting the risks and consequences… Cheers!
Ian, ADI