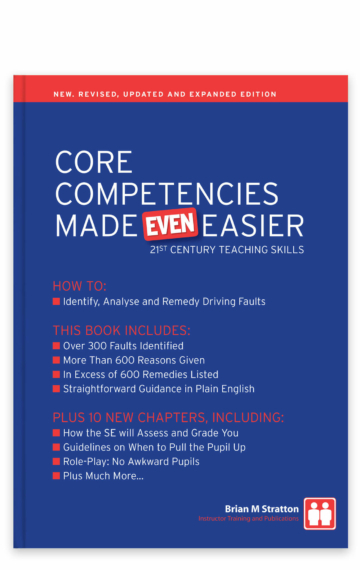 £45 inc First Class UK P&P
Publisher:

ITP

Editor:

Brian M Stratton ADI DVSA ORDIT TRAINER

Edition:

Revised, Updated and Expanded

Available in:

Paperback | Perfect Bound
Add to Basket
EXPLAINS the key skills that every instructor needs: identifying, analysing and remedying faults [or ANDs, aspects needing development as they're now called]. Ideal for PDIs and ADIs as preparation for either a Part 3 test or a Standards Check, and also for everyday teaching.
The Core Competencies are the still the bedrock for correct and safe coaching. 

A4 | 156 Pages | Perfect Bound | £45 inc first class UK P&P
The book provides a clear overview of what the Core Competencies are and how to use them in practice, giving examples for each aspect.
Learn how to identify faults [ANDs – aspects needing development]
Discover why analysis is such a vital skill
Understand remedial action
Once you've bought the book you'll be eligible for a £100 discount off a day's training with Brian M Stratton.
Chapters include:
What are the Core Competencies?
How to Recognise ANDs First Time
How to Plainly Identify ANDs
What to do to Analyse Effectively and Correctly
Using Remedial Action Three Ways
How to Decide When to Pull the Pupil Up
The book is supplied individually numbered – which becomes your PIN – and this links you to discounts for other publications and updates on new titles. Also if you're in a group environment with others who have the same book it will enable you to be identified as the rightful owner.
The book is sealed in a clear plastic wrapping and securely despatched in a padded envelope.
T&Cs: All books are sold on a 'firm sale' only basis, not 'see-safe' or sale or return.
Reviews
…This was highly recommended for the new Part 3… I like the structure and the framework it gives… also the examples of how to use the what, why and how are so useful – you can imagine yourself saying those phrases…
Sharon, PDI
…I bought this for my Standards Check… it's a brilliant combination to use with your Standards Check Essential Information book… to be honest, I'd forgotten parts of the core comps and this book brought them back with clarity and precision!
Jamie, ADI
…Just what I needed, all the specific resources are here and I now have a much better understanding of What, Why and How… linking this with the new book 1771 makes an ideal combination… Thank you so much for providing us PDIs with this treasure trove…
Rachael, PDI
…Thank you for the very speedy delivery – excellent! Already I've learnt more from this book than in two months' training… I also really like the 1771 Driving book… it completes my knowledge and gives me more information for my Part 3…
Darren, PDI
…I've just been reading the Core Comps  book and I would have to say again very, very good… I can't see how anyone could be without it… it's a must to own for all driving instructors… it makes me realise the things I had stopped doing… I'm certain both your books will get me back on track ! Thank you 🙂
Pete, ADI
…I passed my Part 3 first time today and this book made all the difference… I found it to be precise and concise… the words and phrases helped enormously as English is my second language and I didn't always feel confident but now I do… Thank you…
Manuel, ADI