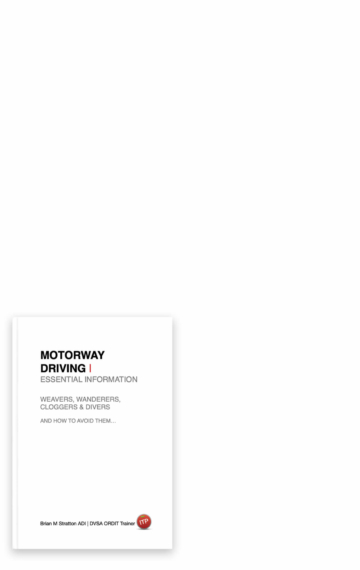 £10 inc First Class UK P&P
Publisher:

ITP

Editor:

Brian M Stratton ADI DVSA ORDIT TRAINER

Edition:

First

Available in:

Paperback | Perfect Bound
Add to Basket
HOW to drive safely on motorways avoiding weavers, wanderers, cloggers and divers.
This book is ideal to help you prepare for teaching learners [and others] on motorways. Since the 4th June 2018 learner drivers have, for the first time, been allowed to drive on motorways when accompanied by an ADI in a car fitted with dual controls.
A6 | 40 Pages | Perfect Bound | £10 inc first class UK P&P
The book explains why motorways are safer and how to join, drive on and leave motorways.
Learn about weavers, wanderers, cloggers and divers
Discover facts about motorways
Understand the key aspects of driving on motorways
Once you've bought the book you'll be eligible for a £50 discount off a day's training with Brian M Stratton.
Chapters include, amongst others:
What is the Definition of a Motorway?
How Driver Assistance Technology Can be Used on Motorways
What are the Different Ways of Joining Motorways?
Using The Hard Shoulder – Do's and Don'ts
The book is supplied individually numbered – which becomes your PIN – and this links you to discounts for other publications and updates on new titles. Also if you're in a group environment with others who have the same book it will enable you to be identified as the rightful owner.
The book is sealed in a clear plastic wrapping and securely despatched in a padded envelope.
T&Cs: All books are sold on a 'firm sale' only basis, not 'see-safe' or sale or return. 
Reviews
…Easy to read and understand.. just what I needed to help prepare my learners for motorway driving…
Ruth, ADI
…I like the way you've put across the information… the chapters about lane cloggers, weavers etc made me smile and my pupils like that as well…
Sean, ADI
…Ideal to look through before a motorway session and it keeps me updated as well… the motorway facts and figures are useful to know…
Dave, ADI
…I know the information is there in other books but it's really helpful to have it all in one book… I like your style of writing and the way you express things in a few well chosen words… Excellent!
Kumar, ADI
…What is very good is the layout – it's easy to find the relevant chapters… saved me having to do all the research so well worth the money… would recommend…
Eddie, ADI
…I like all of your books and this is a very useful addition to my Brian Stratton Library… I only use your books as I know the information is always correct and accurate…
Pauline, ADI