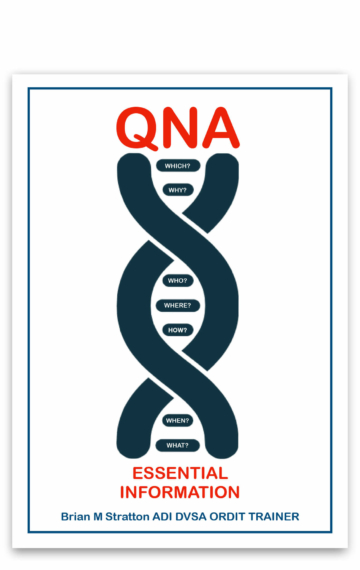 £45 inc First Class UK P&P
Publisher:

ITP

Editor:

Brian M Stratton ADI DVSA ORDIT TRAINER

Edition:

First

Available in:

Paperback | Perfect Bound
Add to Basket
THIS new book is ideal to help you prepare for the ADI Part 3 Test, Standards Check or ORDIT Inspection as well as everyday teaching.
A4 | 109 Pages | Perfect Bound | £45 inc first class UK P&P
QNA is the DNA of coaching and is at the very heart of perfecting this key aspect of involving pupils and ensuring that all training sessions are client-centred.
The book explains how to use Q&A effectively in your everyday lessons to enhance the learning experience for you and your pupils.
Learn the Q&A techniques that have resulted in 287 Grade As [so far…]
Discover the variations and nuanced ways in which Q&A can be used
Understand how Q&A relates to the Part 3 and Standards Check
Once you've bought the book you'll be eligible for a £100 discount off a day's training with Brian M Stratton.
Chapters include:
How to Use Q&A Effectively
What Types of Q&A are There?
Using Q&A with Specific Topics
How Q&A Relates to ThePart 3 and Standards Check FormThe book is supplied individually numbered – which becomes your PIN – and this links you to discounts for other publications and updates on new titles. Also if you're in a group environment with others who have the same book it will enable you to be identified as the rightful owner.
The book is sealed in a clear plastic wrapping and securely despatched in a padded envelope.
T&Cs: All books are sold on a 'firm sale' only basis, not 'see-safe' or sale or return. 
Reviews
…Your book inspired me to use more Q&A… to be honest, I didn't really know how to do it properly before… I liked the bit about how to start questions… and the topic questions are really useful…
John, ADI, Salisbury
…They say you can't buy experience, but you can now! Brian's book has explained and detailed a lifetime's experience of teaching… worth every penny!
Phil, PDI, Walsall
…I don't have English as my first language and this book was very clear and helpful… easy to read and puts pictures in your mind… I can imagine myself saying those things you've highlighted… clear headings make it easy to follow… answered my questions re Part 3 and set my mind at rest… I particularly liked how Q&A linked to the Part 3 marking form… very, very helpful and I'm feeling much more confident about my Part 3 test…
Farideh, PDI, London
…I really like this…I can see now how the appropriate questions can make the pupil think… it's helping me to identify where I need to adjust my Q&A… I like the bit where you've left spaces for us to jot down any questions… I also like the way you see both sides of the Q&A technique… everything is clearly set out… a lot of thought has gone into this book…
Aneta, ADI, London
…I'm preparing for my Part 3 and this book is gold… I now realise what's involved and how to coach… supplementary questions were a revelation and I'm now using them to great effect…
Ashok, PDI, Slough
…Being a senior ADI I'd always done a lot of telling my pupils what to do… I can now see the benefits of using questions to coach them… I'll be using these techniques on my next Standards Check test… I've always been a grade 4, then a grade b and I reckon it was lack of questions… all in all a helpful book which has made me look at my teaching methods…
Peter, ADI, Colchester