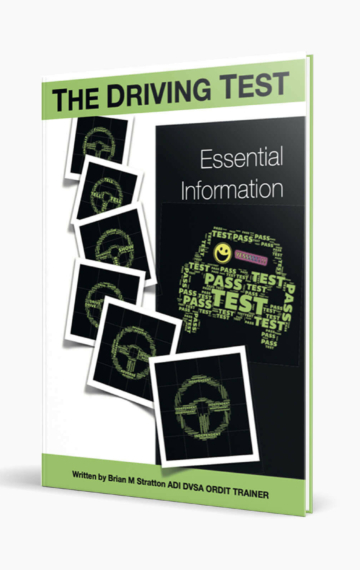 £15 inc First Class UK P&P
Publisher:

ITP

Editor:

Brian M Stratton ADI DVSA ORDIT TRAINER

Edition:

First

Available in:

Paperback | Perfect Bound
Add to Basket
THIS comprehensive new book about the Driving Test contains up-to-date and accurate information about every aspect of the test. It's '3-D': three dimensional, offering advice from Examiners, Instructors and peer-to-peer advice for pupils.
A5 | 154 Pages | Perfect Bound | SRP £15 | Published 01 July 2021
Written by Brian M Stratton ADI, this is the latest in the 'Essential Information' series of books which are clearly written in plain English with no jargon – it's all killer and no filler. And at less than 10p per page it's exceptional value. All of the official 'Tell Me' and 'Show Me' questions are listed, with answers.
Learners will benefit from the book by discovering exactly what the Examiner is looking for, and what happens on the day of the test, There's also a very helpful chapter on how to deal with test nerves.
ADIs and PDIs will learn the answers to all the FAQs. Plus the truth about all of the urban test myths that have been around for years. There's also a clear explanation of how the test is marked.
Parents and Supervising Drivers will be able to know the exact requirements of every aspect of the test from start to finish, enabling them to replicate mock tests. There's also a checklist if you take the test in your own car.
Chapters include:
Detailed Advice | Each of the Six Key Stages Explained in Depth
Influencers | Who are They?
My Dad Says… | Dadvice – Good or Badvice?
Managing Nerves | Knowns vs Unknowns
The Day of Your Test | A Timeline for the Big Day

Test Myths | Six of the Best

Are You Ready? | Are You a Why Me or Try Me?

Two Halves of The Same Story | Candidate & Examiner

Driving Test Pass Rate | Top 10 Reasons for Failure

How The Test is Marked | The Marking System Explained

Pass or Fail – What Happens Next | Plan A and B

10 Things You Probably Didn't Know About The Test | Wow

Record Your Results Here | Mock/Actual Tests + Checklist
T&Cs: All books are sold on a 'firm sale' only basis, not 'see-safe' or sale or return. 
Reviews
Everything I needed to know about the test… the book clarified what the Examiner is looking for and made sure there were no grey areas… I passed with just two minors…
Ethan, 17, Learner
I really think it's exactly what people are looking for… the amount of time we use up with the candidate asking questions about what to expect and this book answers every possible scenario… it would calm nerves and puts what to expect into black and white…
Lewis, ADI
This book gives me the confidence to answer my pupils' questions and prepare them thoroughly for test… there was so much I didn't know… thank you for making our job easier…
Fatima, PDI